Shipyard Partner
OSI – Delivering Bridge Systems to Time, Cost, & Budget
OSI Maritime Systems has been providing advanced integrated navigation and tactical solutions to military customers for over 35 years. As a pioneer of Warship Electronic Chart Display and Information Systems (WECDIS), the company has grown to be a leading provider of complete integrated navigation and tactical solutions designed for naval and maritime security operations. OSI currently has 23 Naval Customers from around the world, with more than 600 warships and submarines operating with our world leading integrated navigation and tactical solutions.

Navigation System Integrator

Equipment Supplier

Responsive Technical Team Support
At the forefront of the adoption of modern technology, the Brazilian Navy is one of these existing OSI Naval Customers:
PHM ATLÂNTICO Amphibious Assault Ship: The Brazilian Navy's Flagship has a dual WECDIS capability on the bridge as well as Warship-AIS in the Operations Room.
NaPaOc AMAZONAS OPV: All three in the class have a dual WECDIS system, one on the bridge and one in the Ops Room.
TUPI/TIKUNA Class SSK have had a single Digital-Maritime Operations Plot D-MOP system installed during the upgrade of their combat management system.

With an established footprint of capability currently operational within the Brazilian Navy, there are existing cost saving measures available in order to offset startup costs, support and training overheads, as well as considerable operational advantage to be gained through Fleet interoperability and the sharing of OSI WECDIS software knowledge amongst more experienced users of the OSI product(s).
Delivering a Complete Solution for the Shipyard
OSI Maritime's all-inclusive bridge solution incorporates our WEDCIS navigation software (ECPINS) into an IBS offering that meets all the requirements of an Integrated Navigation System (INS) as defined by IMO MSC.252(83). Key elements of OSI's whole-system offering are:
• A complete integrated solution that includes all navigation sensors, navigation radars and associated bridge systems integrated into one bridge system providing an efficient installation and set to work  with less shipyard scheduling delays.
• OSI's team of hardware engineers have successfully produced a range of custom hardware designs for both submarines and surface platforms.  Able to design solutions for highly specialised vessels or against demanding physical constraints as well as meeting a wide range of stringent MIL-STDs for shock, vibration, EMI and IP
• Through a balanced approach to through-life-support, our customers receive maximum benefit and lower through-life costs, to optimize availability during operations. Coupled with an inherent understanding of the needs of the naval user, our systems and products are designed with the importance of reliability, maintainability and testability at the forefront.

• To sustain our bridge solutions, OSI provides a full range of tailored Support Solutions. We have a heritage and expertise in Integrated Logistic Support (ILS) combined with an in-depth knowledge of Availability, Reliability and Maintainability (ARM) methodologies. This enables us to design project specific support solutions that maximize Availability at a manageable and measurable Whole Life Cost (WLC).
• Cyber Security: Built around standards that represent industry best practices that includes OS lockdown, Red/Black Separation, Firewalls, User Authentication, as well as other advanced security protocols. Additionally, our software is 100% proprietary and has no reliance on 3rd-party software. Software is guarded against external threats that can cause significant delays to installation and shipyard delivery of platform.
OSI Maritime's IBS is a modular system designed for ease of installation of the whole integrated bridge solution, delivering maximum capability for low cost and with low-risk to the shipyard.

Experienced System Integrator 
OSI has strong experience as a Navigation sub-system integrator, bringing together the equipment suppliers throughout a project life cycle to deliver a low-risk solution for the shipyard and end Customer.
Verify equipment supplier's system specifications.

Managing the equipment suppliers to ensure timely delivery and test schedule for FAT, STW, HAT, SAT based on overall project schedule.

Support the shipyard in the process of achieving Customer approval.

Oversight of supplier's technical agreements/interface documentation.

Support the Combat System Integrator in the conduct & execution of integration testing and combat system proving.
Readily taking on the role as Navigation Systems Integrator, OSI manages the requirements and compliance for safety, performance, compatibility, availability, maintainability, EM emissions control, and environmental conformance for the whole solution.
OSI Maritime is experienced in delivering complete bridge solutions and supporting the Combat System integrator and Shipyard in delivering the Navigation sub-system to time, cost and on programme.

Extensive Shipyard Experience
OSI Maritime is experienced in working with shipyards to deliver Integrated Bridge Systems. Some current programmes include:

• Boustead Naval Shipyard & Naval Group – Royal Malaysian Navy LMS
• Navantia – RAN SUPPLY Class AOR
• IRVING – RCN AOPS
• PT PAL – BUNG TOMO
• ASMAR – Armada de Chile – COCHRANE Class
• DAMEN – South African Navy BIRO OPV
• Lockheed Martin (Marinette Marine) – USN LCS
OSI Maritime has experience and a positive track record working with many different international shipyards to deliver low-risk, cost effective IBS systems for modern new build warships as well as retro-fit.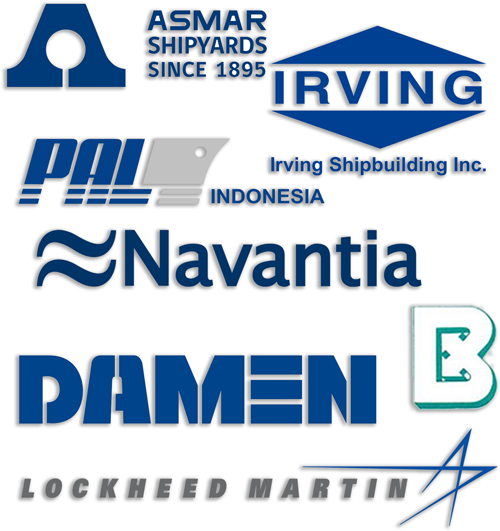 Some of the important capabilities delivered by OSI Maritimes' WECDIS (ECPINS):
Additional Military Layers (AML) Edition 3 coverage


• OSI Maritime's ECPINS delivers the
full
capability of Additional Military Layers (AML) as defined in STANAG 7170 addressing Ed 1, 2 & 3.
• Military rich Hydrographic information beyond that necessary solely for maritime navigation as defined by SOLAS.
• AMLs are intended enable interoperability supporting the principle of "operating off the same map".AMLs provide the military maritime user with digital vector and gridded data to support situational awareness across the full range of warfare scenarios at every operating level from strategic planning to tactical operation.
AMLs provide the military maritime user with digital vector and gridded data to support situational awareness across the full range of warfare scenarios at every operating level from strategic planning to tactical operation.
Integration in CMS (Combat Management System)
OSI Maritime has extensive experience in integrating with CMS on both submarines and surface ships, including:
• Thales TACTICOS
• LM Canada CMS330
• Raytheon AN/BYG-1
• SAAB 9LV
• BAES DNA
Our Navigation Tactical Data Distribution Unit (NavTac DDU) provides the interface between the CMS and the IBS and is a single data source from which all other systems can exchange information with the ship's sensors.
Designed to interface with modern combat management systems, OSI's NavTac DDU delivers a lowest risk, proven, technically compliant solution to satisfy the requirements of an IMO 252(82) data distribution sub-system for any Class of Surface Combatants or Submarine.
Warship AIS (W-AIS)
• Conforms to NATO STANAG 4668 (W-AIS) using full MIL STD-2525 tactical symbology.
• Operators can change the contact's name, symbol, or affiliation, as well as set an alarm when the contact is within or outside a specified range, and have the display show slower contacts as smaller symbols.
• Contacts of Interest – W-AIS provides tools to search, sort, filter, query, set alerts and export ARPA, AIS or CMS tracks.
• Deception and Spoofing – W-AIS provides the ability (subject to user-permissions and authentication) to adjust the information transmitted by ownship and to transmit simulated AIS contacts
Incorporating the same WECDIS look & feel, OSI Maritime's W-AIS delivers a compiled Recognised Maritime Picture (RMP) and has multi-featured Operator Settings
GNSS Denied Operations

• Choice/prioritisation of Position Sources (GPSs, INSs, eLORAN, Visual fixing, Fix + DR etc)
• Instant change to RelNav – Fix + DR or EP.
• Alarmed Primary/Secondary position sources.
• Radar Image Overlay – for display and operation
Enables continued safe open ocean navigation and pilotage in GNSS denied/spoofing environment.
Ship Helicopter Operating Limits SHOL

• Integral part of the WECDIS multi-functional console.
• Provides OOW / AC / FlyCO / FDO with key real-time data to assist safe launch and recovery of aircraft.
• Screen clearly displays ship's heading, relative wind direction, pitch & roll and history and deck landing limitations.
• Displays preconfigured SHOL patterns for aircraft types cleared to that class of vessel in various configurations inc day / night ops; differing AUMs.
Greatly reduces OOW work load, improves bridge watchkeeping efficiency and increases the OOW/navigation safety as well as flying operations safety.